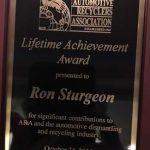 What can an auto salvage consultant do for you?
How does increasing sales sound to you?
How does less overhead sound to you, and lower expenses, and more customers? How does all of that sound to you?
And who is one of the leading auto salvage consultants in the United States?
His name is Ron Sturgeon, headquartered in Fort Worth, Texas, and he can make your auto salvage business soar. This is what he does.  He shares his areas of expertise with you and helps you succeed.  Ron parlayed $2000 as a high school student into millions of dollars, a true self-made millionaire, and he did it by following some very basic business strategies which include:
Lower costs
Increase sales
Streamline your business operations
Lower costs
No matter what kind of business you operate, there are operating costs which can and should be lowered.  An experienced auto salvage consultant can use his/her knowledge of the industry to help you do exactly that.
Increase sales
Increasing sales can be divided into three categories:
Increase the number of new customers
Increase the amount purchased by each existing customer
Increase the frequency of existing customer visits to your establishment
Through practical suggestions, an auto salvage consultant can help you to do all three of these things.
Streamline your operation
Streamline means eliminating wasted efforts and wasted dollars.  A streamline operation is an efficient operation, and efficiency in any business means a more attractive bottom line.
About Ron Sturgeon
As a consultant, Ron shares his expertise in strategic planning, capitalization, compensation, growing market share, and more in his signature plainspoken style, providing field-proven, and high-profit best practices well ahead of the business news curve. Ron is the author of nine books, including How to Salvage More Millions from Your Small Business.
To inquire about our services including consulting or keynote speaking, contact us (Ron) at 817-834-3625, ext. 232, rons@MrMissionPossible.com, 5940 Eden, Haltom City, TX 76117.
Books by Ron Sturgeon which will help your auto salvage business:
409 Small Business Events: Unlock the power of events to bring your business a steady stream of new clients. Co-authors Ron Sturgeon and Linda Allen share their secrets of successful event marketing and their golden list of event ideas.
Getting To Yes With Your Banker: Ron shares his techniques for cultivating winning relationships with bankers. Learn the path to Yes from a successful serial entrepreneur.
Green Weenies: The boardroom has a language all of its own. Ron teaches you the colorful expressions that will make you right at home in the C-Suite. Illustrated by Gahan Wilson of The New Yorker.
Men Are Pigs: Ron Sturgeon shares his candid, no-BS take on dating, love, relationships, and sex.
Peer Benchmarking: The auto salvage industry does not produce many millionaires. Ron Sturgeon is an exception. He built one of the largest auto salvage businesses in the US and sold it to a Fortune 50 company. Peer benchmarking and the accelerated innovation it produces was part of what made him so successful. Learn a tool every business owner should be using.
How To Salvage Millions From Your Small Business & How To Salvage More Millions From Your Small Business: Ron's nuts-and-bolts book for entrepreneurs who want to make ventures in any industry successful. Now in its second edition, Ron's simple, practical, clearly written guide is a must-read.
Comments Off

on Hire an Auto Salvage Consultant to Increase Your Sales
Posted in
Blog Posts